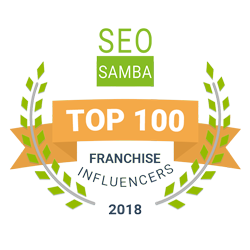 Welcome to FranchiseMoneyMaker.com, the place to learn about franchising, small business and Entrepreneurship..
FranchiseMoneyMaker.com is a Free Information Website written by industry veterans and experts in various disciplines of business and dedicated to Entrepreneurs.
You will find information on everything from choosing the business that fits you best, to financing, to human resources, to marketing and accounting.
In addition FranchiseMoneyMaker.com offers in depth interviews with Business Leaders, successful Entrepreneurs and both Franchisors and Franchisees.
A must visit for anyone in business or thinking about starting their own business. Franchise Money Maker is also an excellent resource for business students or anyone researching small business topics.
FranchiseMoneyMaker.com offers a well qualified and targeted approach to reaching potential business buyers online everyday.
FranchiseMoneyMaker.com is one the first places business buyers explore as they begin their franchise ownership journey. Candidates visiting FranchiseMoneyMaker.com request information from those companies which are a match to their interests, creating a very targeted lead channel of educated, highly qualified potential franchisees.
FranchiseMoneyMaker.com utilizes online marketing strategies to capture quality traffic from the web through top rankings on search engines, using keywords which also help to qualify our audience. FranchiseMoneyMaker.com also utilizes many industry experts and professionals to contribute editorials on ideas and concepts in business which matter most. This content is syndicated for maximum exposure and reach.
Advertising with FranchiseMoneyMaker.com is a great way to reach the buyer you are looking for, in the most efficient manner.
Request to be contacted below to learn how FranchiseMoneyMaker.com can deliver to you the buyers you need to reach your franchise development goals.
Contact US Today at: info@franchisemoneymaker.com
Read the articles posted in the LEFT-HAND column.
Fresh content, timely advice, experienced points of view.
The content and links presented on this page are for informational purposes only, and should not be construed as medical, legal, financial or any other type of advice. Any articles or content presented here are the opinions of the author and have not been reviewed for accuracy. We assume no responsibility for the use of this page or the information and links contained herein
==========================
September 2018
==============================================
Join the growing trend of Healthy Lifestyles by becoming an Acai Express franchisee. Low Cost of Entry, No Experience Necessary, Protected Territories, Superior Marketing, Full Training and Ongoing Support.
For details please contact: info@frangrow.com

Franchise Opportunities that give you control, click here
=============================================
Success is to be measured not so much by the position that one has reached in life as by the obstacles which he has overcome.
– Booker T. Washington
=============================================
Your time is limited, so don't waste it living someone else's life.
–Steve Jobs
=============================================
Enough is as Good as a Feast
– Mary Poppins
=============================================

"We are what we repeatedly do. Excellence then, is not an act, but a habit."
– Aristotle
=============================================
For most of life, nothing wonderful happens. If you don't enjoy getting up and working and finishing your work and sitting down to a meal with family or friends, then the chances are that you're not going to be very happy. If someone bases his happiness or unhappiness on major events like a great new job, huge amounts of money, a flawlessly happy marriage or a trip to Paris, that person isn't going to be happy much of the time. If, on the other hand, happiness depends on a good breakfast, flowers in the yard, a drink or a nap, then we are more likely to live with quite a bit of happiness.
– Andy Rooney –
=============================================
Refuse to ever use the term "failure" again about yourself or anyone else. Remind yourself that when things didn't go as planned you didn't fail, you only produced a result. Then ask yourself this powerfully life-enhancing question, "What am I going to do with the results I've produced?" And proceed to act in such a way as to be grateful rather than resentful for those less than glorious results.
– Dr. Wayne Dyer
=============================
Did you like this?
If so, please
bookmark it
,
RSS feed
.